While Jimmy was eating the ghost pepper burger that I featured previously, I was working on this project: a definitive ranking of every cocktail, what they call a "signature sip", at Hopdoddy. As I mentioned in my previous post, Hopdoddy has a phenomenal happy hour. Their burger special is $5, craft drinks, wine, and "signature sips" are $5, and their amazing Kennebec fries are $5. That includes the green chili queso. Their signature sip menu is fairly short, so since I've discovered their happy hour, I've been able to go through the entire list. Now I present all that I discovered to you, so that you can make the best choices.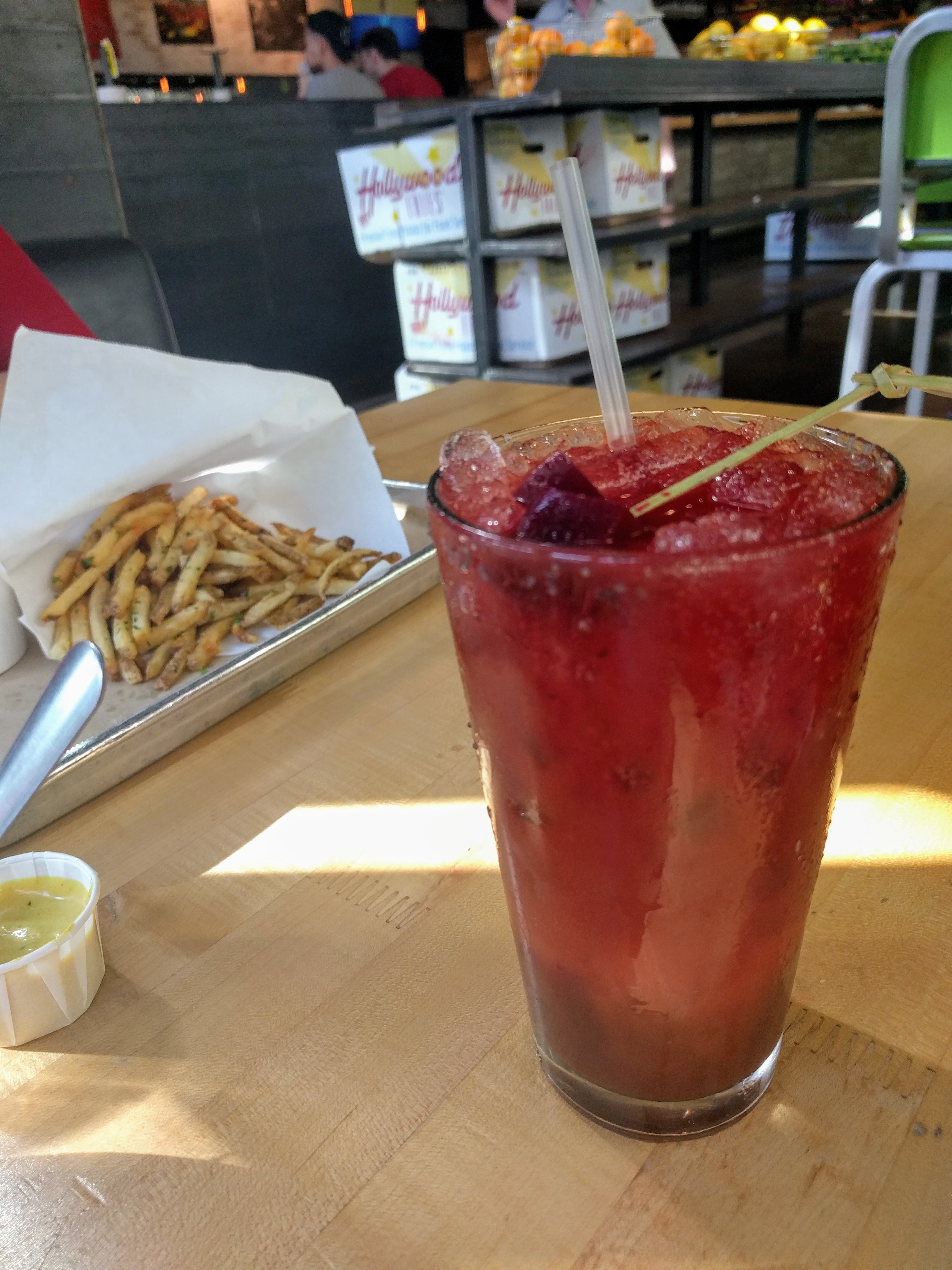 Hey Neighbor!
Description from the menu: Bloody Mary with Beet and Tomato Juices, our Spicy House Blend, and Black Lava Salt Rim
My thoughts: A Bloody Mary that turns your poop colors. Usually when I get a Bloody Mary, it's because my guilt requires me to even out my alcohol and carb consumption with vegetables. The inclusion of beets here means that this Bloody Mary is twice as effective at that! The consistency is more that of food than a drink, so it feels like a meal. I couldn't get through this without help.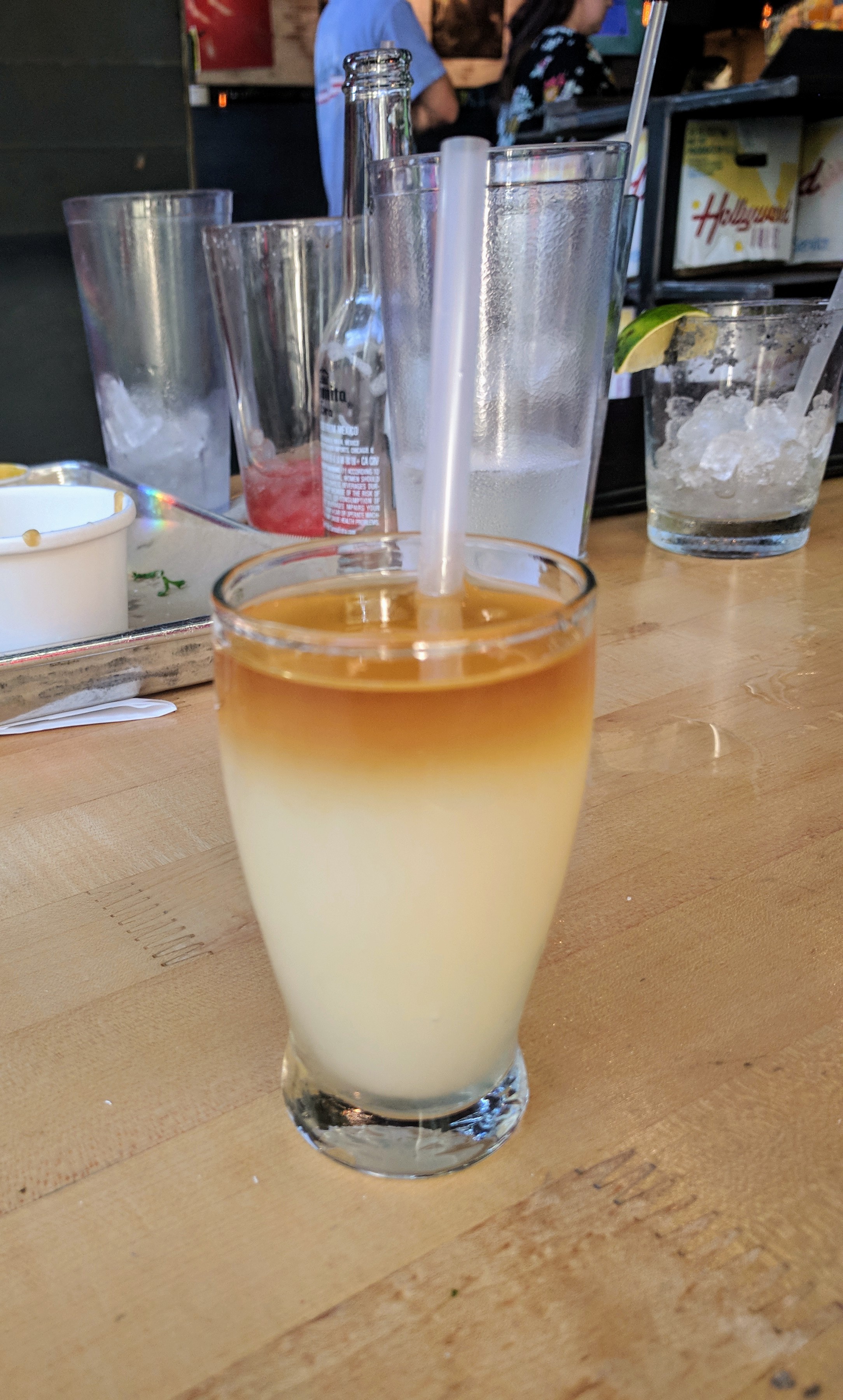 Little Larry
Description from the menu: Mini-classic frozen margarita topped with Grand Marnier
My thoughts: This tastes like an old-man version of a margarita. Imagine wearing a smoking jacket to the beach, and you have the general gist of this drink.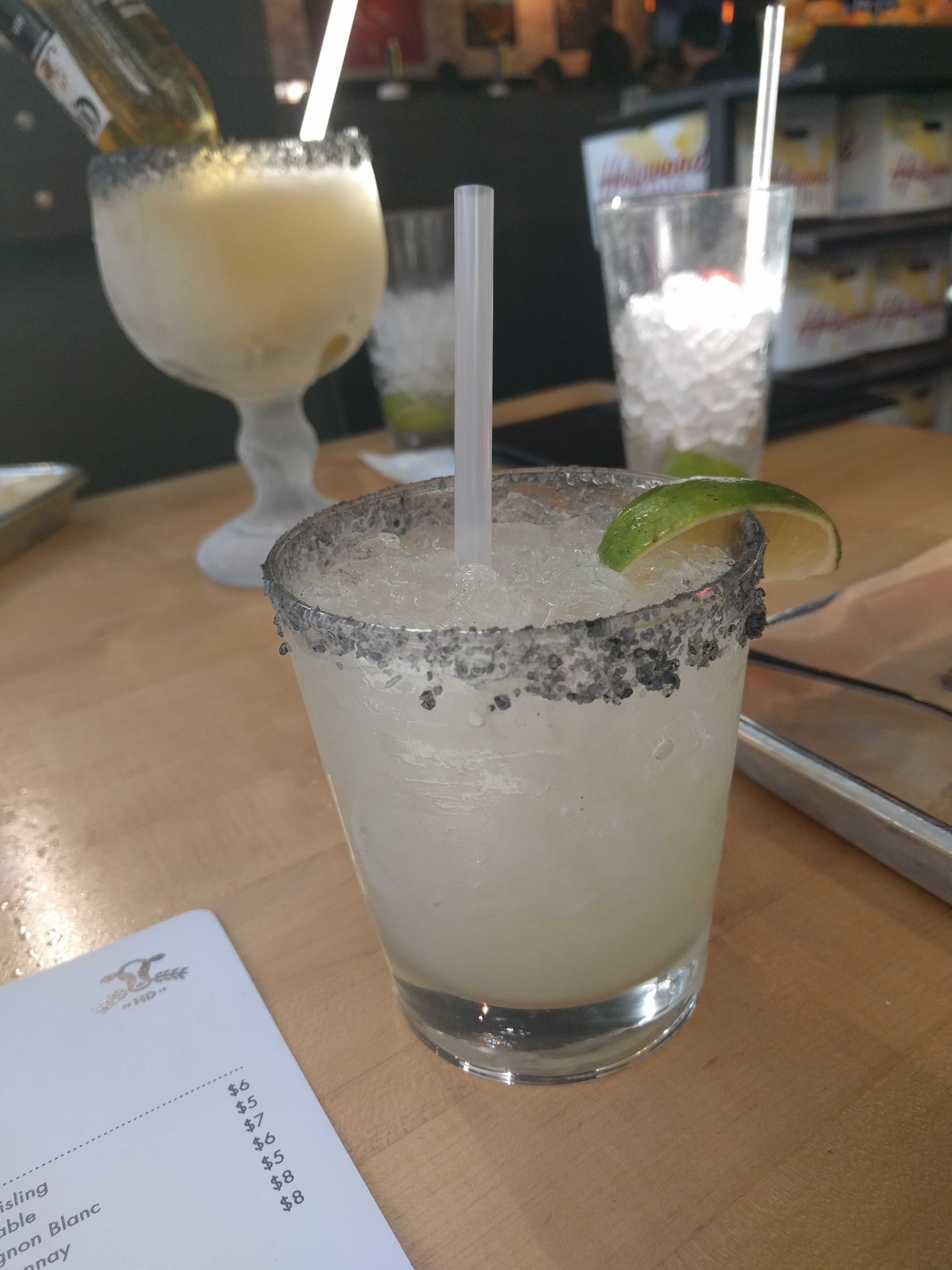 Classic Frozen Margarita
Description from the menu: Gold Tequila, Fresh Citrus Juices, House-made Triple Sec, Black Lava Salt Rim, Served Icy & Delicious.
My thoughts: This is a pretty basic margarita, so there's not much I can say about it. Basic, but delicious. The black salt rim is a nice touch, making you feel like you are getting something much fancier.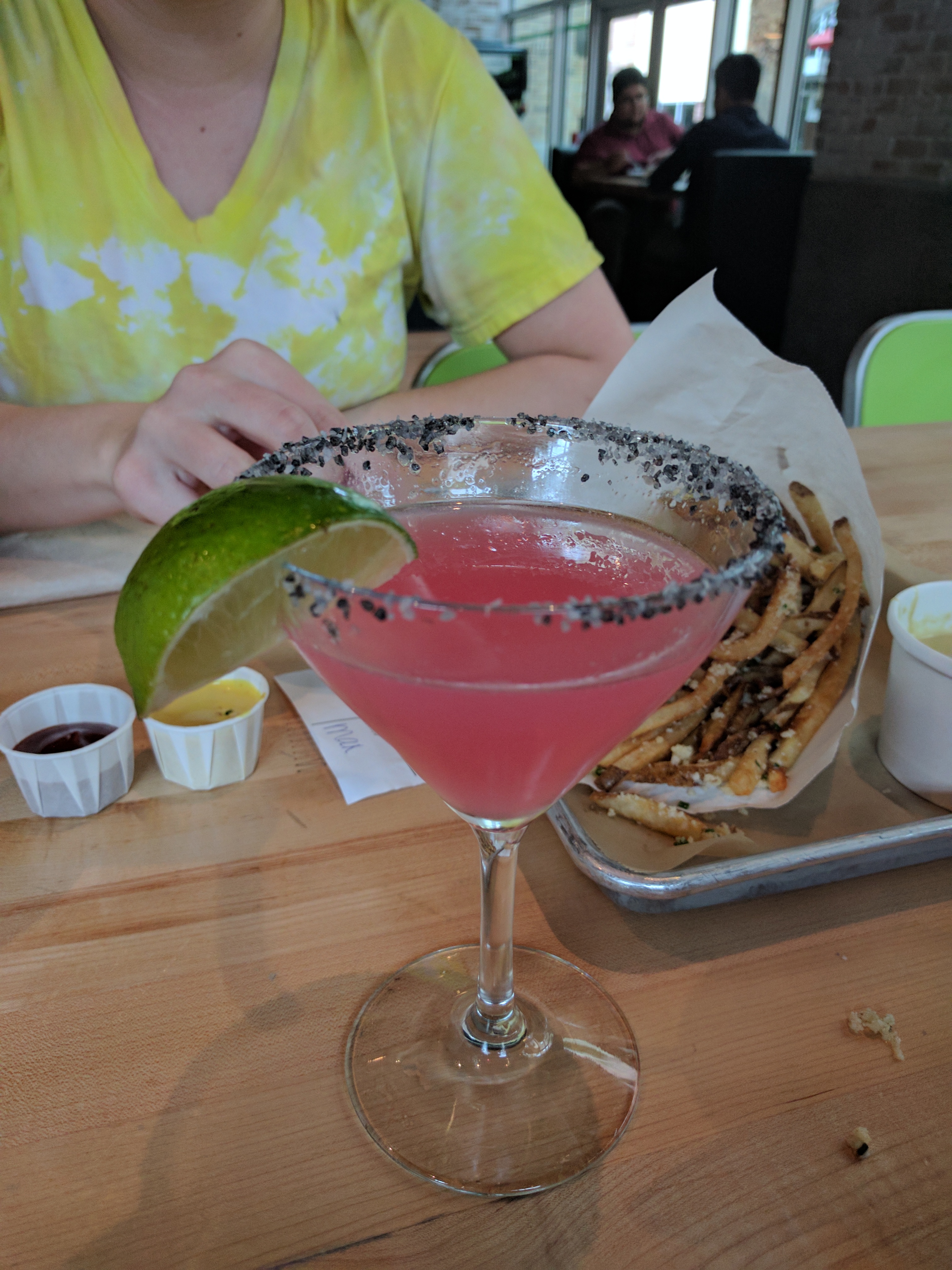 Lil' Prick
Description from the menu: A Sassy Prickly Pear Martini with Silver Tequila, Fresh-squeezed Lime Juice, Black Lava Salt Rim.
My thoughts: This is one of the most attractive drinks, with it's wide-mouth glass and bright color. I love prickly pear in theory, but in practice I always find that it's just not that flavorful. The taste is not unlike their traditional martini, but with a more Sex In The City presentation.
Doble Fina Margarita
Description from the menu: Silver Tequila, Freshly-squeezed Lime Juice, Sweet Agave, House-infused Triple Sec
My thoughts: Quite the tasty margarita, but still very basic.
Mighty Mule
Description from the menu: Refreshing Sparkler with Vodka, Maine Root Ginger Brew, Fresh Lime Juice
My thoughts: No surprises here. It's a classic Moscow Mule.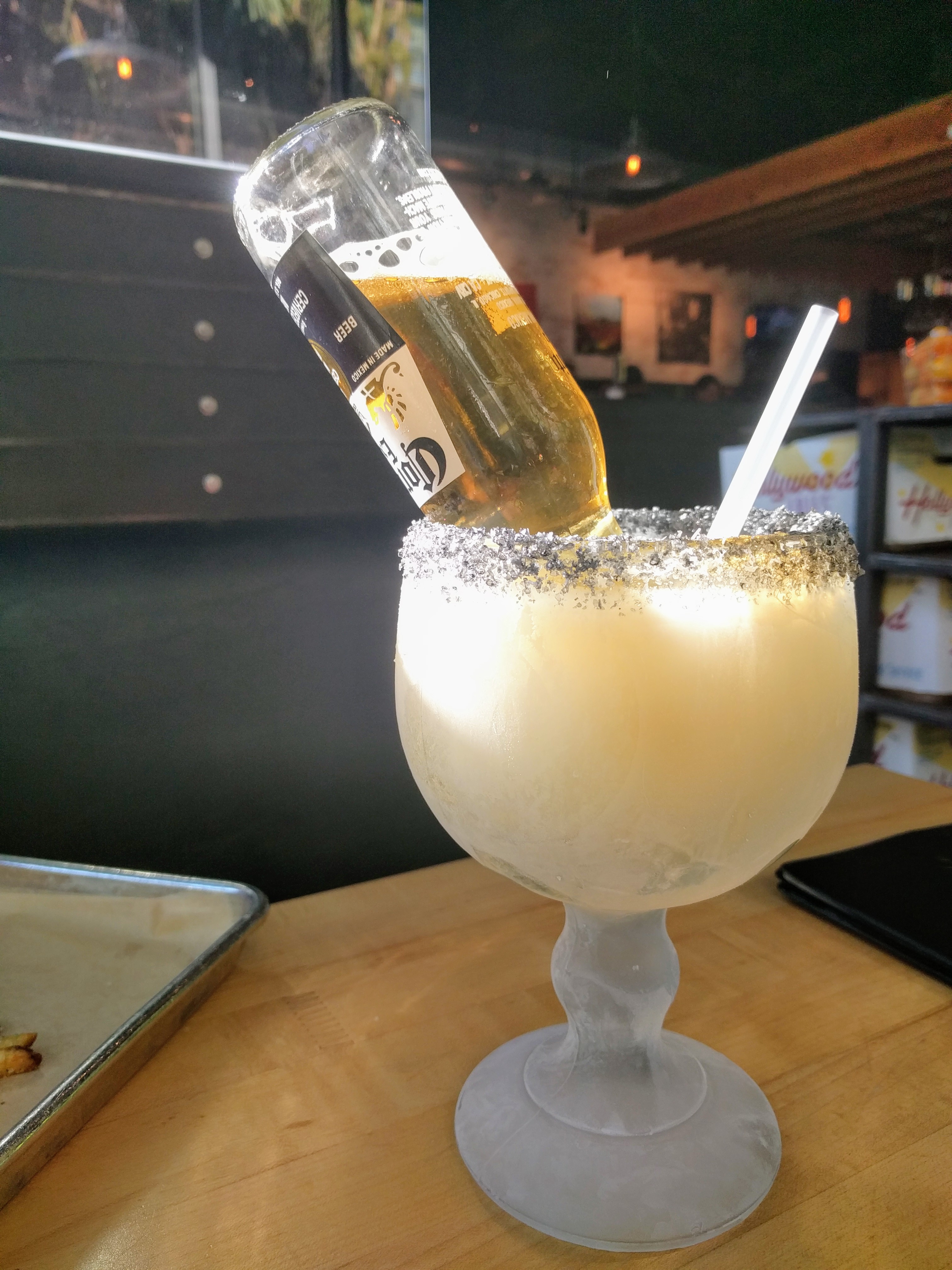 The Skinny Dip
Description from the menu: A 7oz Coronita Dunked into a Goblet of Frozen Margarita with a Black Lava Salt Rim.
My thoughts: This is a beergarita made with Hopdoddy's yummy classic margarita as a base. I actually prefer it to the margarita alone because the beer evens out the sweetness of the triple sec. You have to manage this drink, though. Left to its own devices, the beer will not trickle out fast enough, leading to a lot of beer leftover at the end. This is what I would get if I was treating guests from out of town in order to show them a bit of Austin.
Note: This is $10.50 on the menu but it is is also $5 during happy hour!
Bubbly Blonde
Description from the menu: House-infused St. Germain, Sustainable White Wine, Lemon, Orange, Bubbles, Basil
My thoughts: This is their only drink with bubbles, so it's the one I order the most often (after their seasonal watermelon margarita). The St. Germain adds a delicate touch. I just wish the serving size were larger because I want to drink this forever.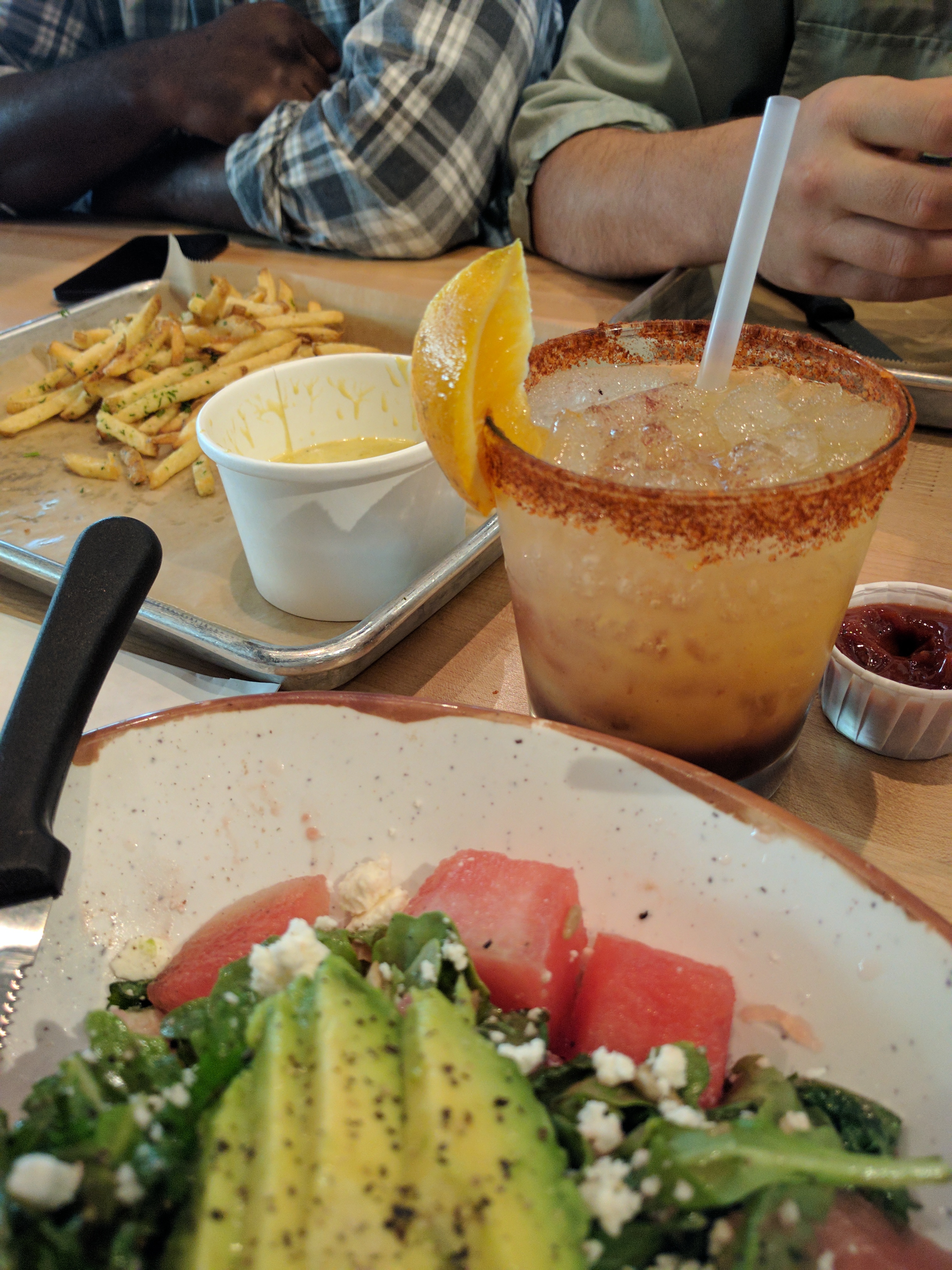 Sangrita
Description from the menu: Gold tequila, Freshly-squeezed orange and lime juices, Pomegranate Grenadine, Served on the rocks with a Chili Salt Rim
My thoughts: Maybe it's the use of fresh juices instead of triple sec, but this drink is miles above their traditional margarita. It has the perfect balance of sweet and tart that you want in a fruity cocktail. You will probably drink it with a straw, so the chili salt is unfortunately just for looks.
Soco Sweet Tea
Description from the menu: House-infused limoncello, Deep Eddy Sweet Tea Vodka, Raspberry Puree, Fresh-squeezed Lemon
My thoughts: This is so much sweeter than I usually like my drinks but I don't care because it is fan-fucking-tastic. Every element of this works well together to create something unique and yummy. If it was just Sweet Tea Vodka with limoncello, that would already be worth ordering, but the raspberry puree gives it an extra boost of flavor and a slightly slushy texture. It's everything you could want in a summer drink.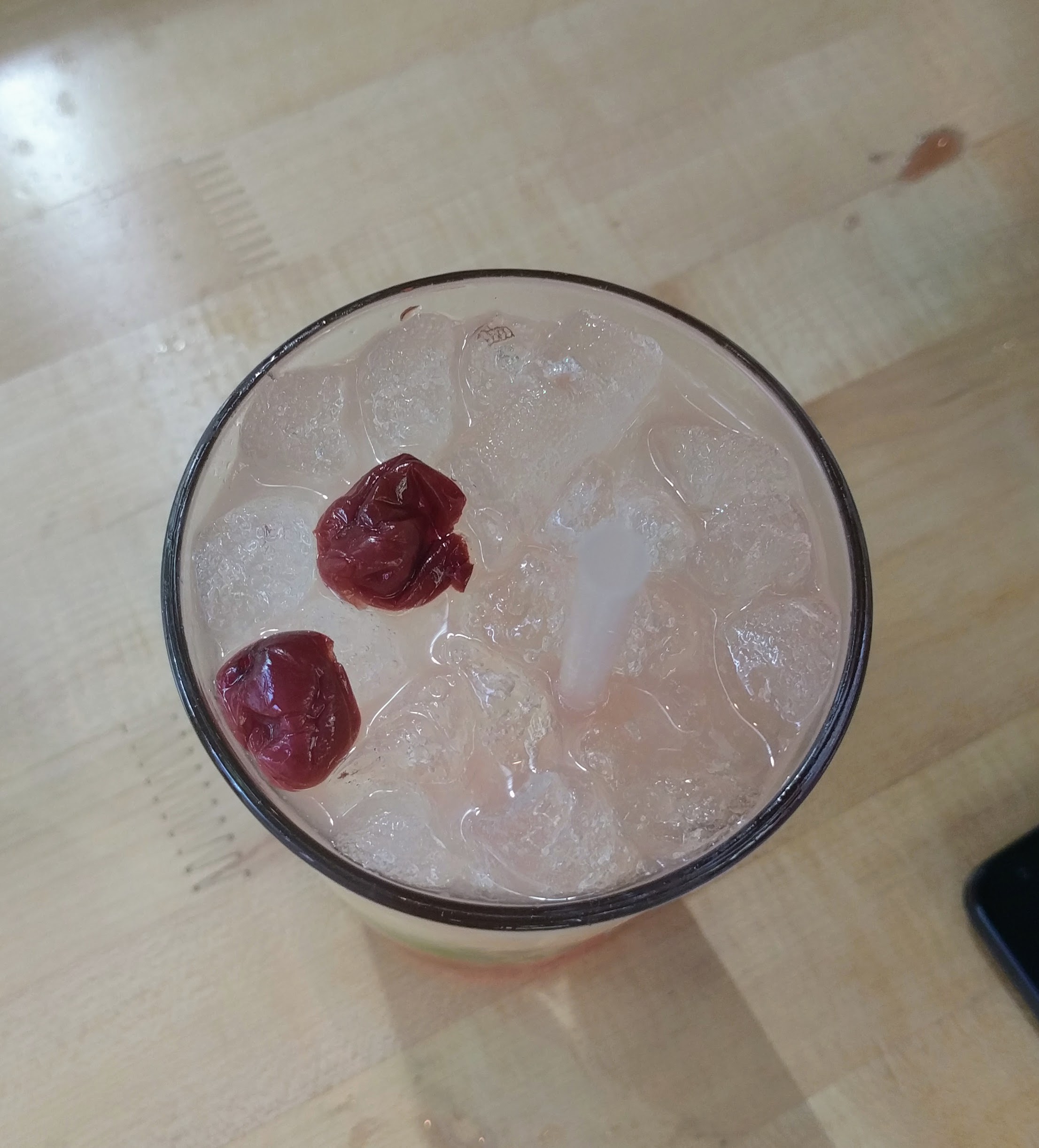 Black Cherry Hard Limeade
Description from the Menu: Your choice of gin or vodka, lime wedges, black cherry fizz
My thoughts: This is the least sweet choice among their "Signature Sips". It tastes exactly as it claims, like a crisp, refreshing limeade that is only incidentally alcoholic. This is one of those drinks that is so light and smooth that you want to drink it like soda. Praise zeus the table service is slow at Hopdoddy or this could lead to trouble.
---
Thanks to all my friends who helped me taste these, including Rebecca, Jason, and Lauren!